---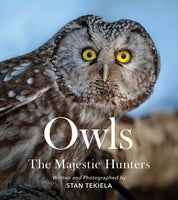 Owls: The Majestic Hunters
Delve into the lives of owls with this collection of photographs and information by award-winning author and wildlife photographer Stan Tekiela.
They are silent and beautiful. They symbolize knowledge and mystery. Owls are among the most popular and beloved animals in the world. Yet most are nocturnal, so an owl sighting is a remarkable event, one worthy of remembering and sharing with others. Award-winning author, naturalist, and wildlife photographer Stan Tekiela believes that owls are intriguing birds. He spent more than 20 years traveling across the country to observe and photograph the various species, from the Great Horned Owl to the extremely uncommon Ferruginous Pygmy-Owl. He documented every aspect of the owl's life: major events such as courtship and mating, as well as everyday activities like hunting and sleeping.
The result is a striking portrayal of these amazing raptors in Owls. Stan's extraordinary photographs depict the birds of prey in a new, unique fashion. His fascinating text is drawn from detailed research and personal observations. Presented with headings and short paragraphs, the coffee-table book is pleasurable to browse and easy to read.
"They are strikingly beautiful creatures and incredible hunters," says Stan. "Owls are among my favorite birds to study and to photograph."
Unmatched by any other book on the market, Owls is a must-have for bird watchers, wildlife enthusiasts, and nature lovers.